What is BookDrive Mini?
BookDrive Mini is the most affordable and easiest to use model of the successful BookDrive line of scanners. BookDrive solution solves typical problems found in overhead scanners: page curvature, damage to book spine, and low productivity.
The BookDrive uses a different approach called a V-shaped solution. The combination of a V-shaped book cradle and a V-shaped platen holds the book open at a non-stressful 120 degree angle for scanning by two hi-speed, hi-resolution DSLR cameras.
Our affordable scanners are responsible for scanning over 3 million books and are currently being used by some of the most prominent academic libraries, universities and museums around the world. See more references
BookDrive VS. Overhead scanners
BookDrive
Overhead scanners
Straight text lines.
Naturally curvature-free.
Book has to open fully at 180°. Glass plane or fingers hold the pages from flapping.
1 linear or area sensor captures a spread double page.
Curved text lines requires software fix.
Book opens at about 100°. V glass gently engages the pages and causes natural flattening.
2 area sensors individually capture a true left page and a true right page.
How does BookDrive Mini work?
Simply place your book face-up on the V-shaped cradle and engage the V-glass. Press Enter on your keyboard and the program will trigger the cameras to shoot both the left and right hand pages. This allows you to scan piles of books with high productivity.
Learn how it works
Watch the BookDrive Mini Video.
The BookDrive Difference
Natively flat
BookDrive eliminates the need for page curvature correction because it produces natively flat images in the first place. This hardware approach results in faster operating time and more reliable result than the software manipulation techniques used by overhead scanners that produce curved pages.
V shape is better than 180°
BookDrive's V-shaped cradle provides better support for your battered old books than conventional 180° cradles. Scanning is performed without laying books out flat and applying undesirable force to bindings.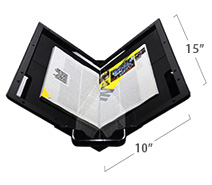 Support up to legal size
BookDrive Mini accepts books of varying kinds, sizes, shapes. For purpose of space-saving footprint, it accepts materials from very small books up to legal size
(10" x 15"), and 5 cm. thickness max.
Upgradable
When new, improved camera models become available, users need only to replace their cameras -- not the entire scanning system as is the case with other offerings. BookDrive offers the best value proposition in the industry, as it will never become obsolete.
Well-lit, glare-free images
The LED lighting system in BookDrive Pro is engineered to distribute light evenly across the entire scanning surface. This produces well-lit images free of glare, even on glossy papers. See comparison between glare and glare-free images here.
Extremely high OCR accuracy
Sharp output from BookDrive works great with all OCR software packages (optional) of your choice. The V glass lets you capture a full page with fully exposed margin. Text near the gutter area won't go missing.
Samples
These are images from the cameras with no software enhancement. See the true quality of the images that you will get with the BookDrive Mini.